Some of the people we have helped
The successful corporate President - We reorganized his office so he could increase profits with multiple, growing companies.
Senior citizens - Change can be difficult, but we can make it less stressful. We have helped many seniors downsize and move into their new senior community, always with compassion and trust.
New homes - We have helped unpack and organize many families in their new, larger homes, sized to fit a growing family.
Staging houses for sale - A Space For Everything has staged and decorated many houses before they are listed, dramatically improving the turnaround time on the sale.
Families in transition - We have redecorated many rooms to fit families' changing needs, such as new home offices, new playrooms, a bedroom for the new addition, teen rooms, family rooms, etc.
Children's areas - Barbara brings a special touch to kids' playrooms, redesigning them with great toy organization systems so the children can play freely and know where to put their toys when finished. We decorated one playroom with a jungle theme!
What our satisfied customers are saying:
"A Space for Everything came into the home that I have been in the past 20 years and reorganized kitchen, several rooms, cabinets and closets.
I feel so much lighter now. She was instrumental in helping me sort through what I really needed to keep and how to best have each and every space organized. She even assisted in distributing what I didn't need to charity or elsewhere. She and her team also work very fast and efficiently.
Thank you Barbara!"
~ Jeff Sterley
"A SpaceFor Everything is top notch. I have now worked with Barbara numerous times and I know she is dependable, kind, giving, fair, meticulous, and fast
Barbara makes moving or organizing your space a complete breeze. Barbara's own outlook on life helps to refocus your confusion as you move from one home into another. She works with outstanding people who help her not only in organizing and packing but her wide net of colleagues who work in the trades is fantastic. Whether you need to find a handyman, electrician, or plumber, Barbara seems to know them and can facilitate that for you at a moment's notice - and they all step into the job with the same expertise that Barbara has.
I will continue to use A Space For Everything for any organizing needs I might have and continue to give out Barbara's name to all my friends. She is the greatest!"
~ Nancy H., formerly of Marin County, currently San Diego
"I cannot tell you enough how amazing A Space For Everything is. From the moment Barb walked in, she and her team went to work. Over the span of 4 days, my home went from a place for nothing to a PERFECT place for everything. My fiance and I live in a small 1 bedroom lofted apartment and we felt so cramped for space. With a wedding around the corner, I knew that would only lead to more and more things having to be stored in our apt.
Once Barb was finished, I had more storage, numerous empty shelves (which I haven't seen in God knows how long...), and refreshed decor that made our house feel so much more like a home. Going into marriage with this "new home feel" is something that I can't even express in words of just how grateful I am. We know now where everything is, found so many items we've thought we "lost" and have a completely new appreciation for organization.
I highly recommend Barb and her services. Not only does she know exactly what she is doing (and can navigate The Container Store with her eyes closed) she is fun to work with and always makes sure her solutions are a fit for YOUR lifestyle. Which at the end of the day is exactly what you want in a professional organizer!"
~ Callie Ahern
"As a real estate broker specializing in effectively marketing properties to maximize proceeds to my clients, I have had the pleasure of working with Barbara Streckfus on many home organization and staging assignments. I have worked with several different home organizer/stagers, and seen the work of several more home organizer/stagers, and I can tell you that Barbara Streckfus is second to none.
She's so good that my wife and I have hired her in each of our moves (home and office) to bring order to chaos and dramatically improve the quality of our living and working spaces.
I have referred Barbara to several listing clients. She is extraordinarily conscious of what can and what should not be used in a house to show it to maximum benefit, and how best to present it. In the recent past she has organized and or staged three of my listings each of which sold at or above expected price in less than 2 weeks (including one that had been on the market with no offers for 5 months). And this in the toughest market for selling in the past 20 years! On top of her great ability, she is pleasant to work with and completely respectful of my clients and their idiosyncrasies.
In summary, Barbara adds tremendous value, is highly cost effective and helps me get homes sold quickly -- whatever the market. I recommend her without qualification."
~ Jim Walsh, CPA, CFA, CHS; Broker - James A. Walsh Real Estate
"You are amazing! You turned a stressful event into a pure pleasure. My mother and my aunt are so pleased. Thank you and thank you to your team. All the best wishes."
~ Palos Verdes Estates Client
"I know I can't say it enough, but thank you again! I'd also like to tell you, which also can't be said enough, how much I appreciate everything you do. Let's not forget your patience with me!"
~ SF Client
"Barbara does more in 10 minutes than I have ever seen anyone do."
~ Mary Jane Riley, retired KCBS talk show host
"This is a long overdue note just to say what a fabulous team you are. You came into my life at a time when I was selling my home which was so emotional for me. I was a like deer facing the headlights and you swooped down from the Gods and made everything happen, and happen on time. Not only did you organize my life and make me feel great but you also organized the two homes that I was moving into! I can't thank you you enough! If I could afford you every day you would be in my house every day! There are no words for how much I love and appreciate all of you! Thank you so much,"
~ Nancy Olin Heldt
"(Barbara) is an amazing and transformative person. She was initially recommended and gifted to us by our daughter....My husband and I are fairly organized. We have lived in a large 3 story house in Seacliff for thirty years. Barbara organized our house in ways we had never thought of and in the process helped us to understand how this would improve our day-to-day function. She is also very kind and understanding and I would say her service also comes with a sort of...psychological sway that helped us understand how these physical changes could assist our day to day life.
Barbara is a delight to work with. She is unassuming despite her enormous talents. She not only does the organizing but also gets the materials necessary to carry out the task. She welcomes but does not demand attention, so your involvement can be intense or not. She knows where to find everything from boxes to furniture. She has wonderful decorating ideas and often rearranges what you have in such a clever way as to avoid expense. Her hourly wage may seem high but you will get more than your money's worth as she is an organizer, a decorator, an idea person and I think a part time psychologist (although she does not say she is). She does this all with modesty and charm . It is hard to explain but she and her results are amazing."
~ Michael and Nancy Borah
"It is hard to put into words the gratitude I have for Barbara and her ability to completely re-organize my home (and life....). It all started with a desire to have my home office more organized. After that major transformation, our family decided that we needed our entire home to be retrofitted with Barbara's amazing talents.
My husband and I were certainly about a 9 or 10 (out of 10) on the clutter scale and many thought I was beyond help. However, Barbara has an amazing way of putting organizing systems into place (in every space in our house) such that we have diligently kept up the organizing for over three months. Our house is now a home and we love having visitors and we are able to challenge them to open any drawer or closet or cabinet to admire our organizing throughout our home. We have two young kids which can be particularly challenging for keeping a home organized. But, Barbara's background as preschool teacher (and mother) helped because she knew how to create organization systems that last for kids as well.
I am now proud and shocked to say that I would consider myself neat and organized -- and this is 100% because of Barbara. She was able to reach me and teach me just by setting up my house in a way that works for me. Thank you Barbara!!! My parents are still amazed at the way our house has stayed so organized and they only wish that you had come into our lives several years earlier!!! You are the best!"
~ Kim (and Mike) Schulist
After spending two days unpacking her home and designing custom closet systems, Beth was thrilled. "Barbara changed my life!"
We organized Gerri's son's room, and that very evening she e-mailed her gratitude: "Wonderful job today! Thank you for your hard work and great taste. You are such a warm person and quietly perform magic tricks."
After organizing her cottage, Patria said, "I have walked around my little country nest and I am amazed how you found a place for everything. You bring such a caring energy that makes the process so much easier. The overall project is a work of love and a deep sensitivity. The closet is just too wonderful."
We staged Cindy's home for sale, and afterwards she wrote, "I am so glad that I worked with you to prepare my house and organize my life. Your compassion and wisdom will stay with me."
Cheryl: "I am going to love my new yoga corner, Barbara. What a great idea! With all the changes that you both suggested, the beautiful greenery outside is suddenly inside. I love it!
Another satified client writes, "Barbara can rearrange a couple of items and turn the place into a showcase!"
"Wow...as usual...you've totally changed/cleared the energy in my house & given me the ability to focus enough to sort things I no longer need or want. You're helping me dig my way out of the overwhelm that was created by my recent shopping. I'm basking in the beauty you created & I have my vision & confidence back."
~ Kate
"Thank you Barbara, a million times thank you. And thanks so much to Amy and Christian. They have been amazingly poised and professional in your absence. You must be proud. I'm so grateful."
~ Jennifer
"Barbara [is] PERFECT! She is fast, she is organized beyond belief, she is amazing! Worth every cent and more. I adore her. She has done so much for me!"
~ J. Livingston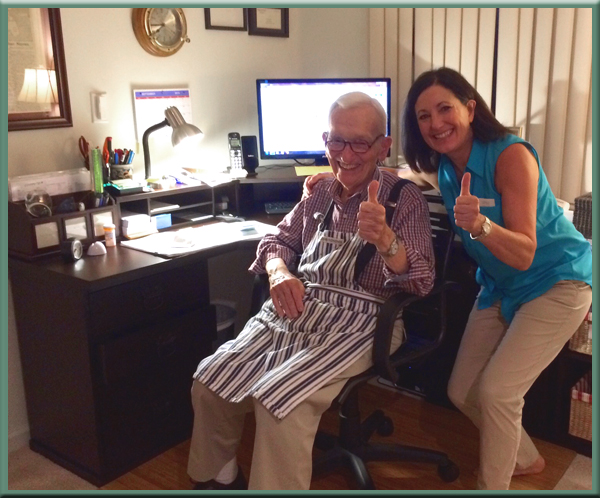 Just one of our happy customers, above, with Barbara.
We can help you, too!
CONTACT US for your FREE consultation. Reduce your stress by eliminating clutter & "simplify your life".